Anglia Land Surveys Ltd
Anglia Land Surveys Ltd
Anglia Land Surveys Ltd provide measured land, GPS and building surveying services for construction projects throughout the UK. Using the latest survey technology we are able to produce quick and precise surveys at a cost effective price.
The services offered by ALS surveys include:
Topographical Land Surveys
Detailed Highway Plans
Measured Building Surveys
3d Laser Scanning
GPS Surveys
GIS Data Collection
Flood Risk Assessment Level Surveys
As-Built Construction Surveys
Drainage and Utility Plans
Earthwork Design and Volume Calculations
Site Setting Out Engineers
Determined Boundary Surveys for Land Registry
Our experienced surveyors work on projects of all sizes; from small private properties to multi million pound redevelopment sites throughout the UK. If you would like to know more please call and we will be happy to help. Alternatively you can visit www.als-surveys.com to find out our latest news and view examples of our work.
Quality
Quality Management System – ISO 9001:2000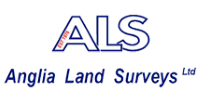 Address
30 Gardyn Croft
Taverham
Norwich
NR8 6UZ
Telephone
01603 749600
Fax
01603 734798
Email
Web
Twitter
Contacts
Jon Tanton
Pete Rogers