40SEVEN provide industry leading surveying services, ranging from Underground Utility and Topographical Surveys, through to Measured Building and Gas Hazard Surveying.
All our surveys can be provided as a stand-alone product or integrated into a full package alongside any of our other services. We offer a full range of data handling and presentation platforms to facilitate the use of the data we provide to our clients. This includes the management of data in bespoke packages or direct transfer into corporate GIS packages.
40SEVEN provides the following services:
PAS128 Underground Utility Location & Mapping
Drainage Network Mapping including Manhole surveys, Jetting and CCTV.
Mobile GPR Mapping
Utility Desktop Surveys
Topographical Surveys
Measured Building Surveys
3d Laser Scanning and Modelling
Revit Modelling
Drone Surveys
Engineering Surveys, including setting out and structural installations.
Hydrographic Surveys, including rivers, flood plains and reservoirs.
Gas Hazard Surveys, including MRPS, leakage, high volume data preparation/entry and high rise/high risk building surveys
We pride ourselves on providing high quality data to our clients and we work closely with our clients to ensure that we always understand their requirements and deliver information to them to meet their exact needs.
Having a quality focussed, happy and efficient workforce is important to us because our business revolves around the people we employ. Training and continuous development is critical to the delivery of high quality, accurate survey data and therefore we invest heavily in this area.
Our work is nation-wide and we are experienced in working in a variety of high risk environments such as rail, airports, motorways and highways, substations, treatment works. We therefore have the following approvals and certifications:
Environment Agency Approved, for the acquisition and supply of GPS derived data.
Highways Agency Approved – All of our surveyors are RASWA chapter 8 and 10 qualified.
RIQS Certified with experienced Land and Utility rail surveyors with PTS licences
Achilles Verified – Class B2 Assessment.
Registered to BS EN ISO 9001:2000, 18001 and 14001
Safe Contractor Approved
CHAS Certified
Construction Line Gold
EURO GPR
Achilles UVDB
Quality
Registered to BS EN ISO 9001:2000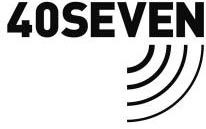 CCD
Address
Cross Green Industrial Estate
Cross Green Way
Leeds
LS9 0SE
Unit E, Great Hollanden Business Centre
Mill Lane
Underriver
Sevenoaks
Kent
TN15 0SQ
Telephone
0113 201 9700
Fax
0113 201 9701
Email
Web
Locations
Leeds and Sevenoaks
Contacts
Isabell Holling – Head of Operations
Phone: +44 (0) 7720 544 106
Email: iholling@40seven.com
Max Dibsdall – Operations Manager (South)
Phone: +44 (0) 7770 607 718
Email: mdibsdall@40seven.com
Martyn Utley – Business Development Manager
Phone: +44 (0) 7770 607 703
Email: mutley@40seven.com