Baypoint Surveys
Baypoint Surveys
Established in 2005. Baypoint Surveys is a highly respected multidisciplinary survey company providing unparallel levels of service to its clients.
Its Mission is to provide the highest quality surveys at the most competitive price. It achieves this by keeping up to date with the latest instruments and software thus improving efficiency and savings to its 150+ clients.
These include Architects, Builders, Civil Engineering Contractors, Developers, Ground workers, Golf Courses, Shop fitters, Rail Companies, County Councils and Local Authorities.
With over 700 contracts successfully completed in the last 6 years our clients have the confidence to know when Baypoint Surveys is involved they will get the highest quality Surveying Services available.
Services:
2D and 3D Topographical Surveys
Rail Infrastructure Surveys
Measured Building Surveys
Setting out Services
3D Laser Scanning
GPS Control and Surveying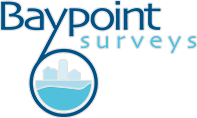 CCD
Address
82 Castle Lane West
Bournemouth
Dorset BH9 3JU
Telephone
01202 301012
Fax
01202 301067
Email
Web
Contacts
Stewart Bazeley – Managing Director