Benchmark Surveys Ltd
Benchmark Surveys Ltd
Benchmark Surveys was established in 1995 and offers a complete range of land and building surveying services to clients ranging from large companies to private individuals throughout the UK.
We specialise in topographic land surveying, measured building surveys, volumetric and area surveys, street elevations and any CAD/ plan related service for architects, engineers, local authorities and developers.
Benchmark Surveys aim to give a high quality service to all our clients and can provide information in 2D and 3D and in a wide range of formats. We can also digitise old plan information up to and beyond AO size sheets.
Benchmark Surveys is a company that is committed to providing a personal and professional service from commission to completion.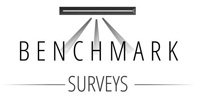 Address
12 Kingfisher Court
Venny Bridges
Pinhoe
Exeter
Devon EX4 8JN
Telephone
01392 467836
Fax
01392 468617
Email
Web
Contacts
Helen Richards, HND – Director