CSL Surveys (Stevenage) Ltd
CSL Surveys (Stevenage) Ltd
Since our formation in 1984 CSL's aim has been to deliver a professional cost effective service to all our clients. To this end we have maintained a progressive outlook in the technical advancement in both survey instruments and processing software. This enables us to provide an efficient service whether it's surveying a small garden for a landscape architect or a large topographical survey for one of the major land developers.
With the use of the latest Leica reflectorless laser instruments, as well as running two Leica HD Laser Scanners, we are able to fulfil all the ever increasing technical demands of our client base.
Our client services include: Topographical Surveys, Measured Building Surveys, Detailed Elevations, 3D-modelling, Lease plan and Licensing plan Surveys.
No project is considered too large or too small.
Quality
Working towards LRQA.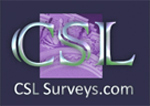 Address
16 Leyden Road
Stevenage
Herts
SG1 2BP
Telephone
01438 728441
Fax
01438 742435
Email
Web
Contacts
Nathan Spencer
Brian Spencer