Geotec Surveys Ltd
Geotec Surveys Ltd
Geotec Surveys are an underground Mapping and Geophysical Surveying company. Established in 1998 the company has grown year on year and is renowned for its quality, innovation and technological expertise within the sector.
Working mainly within the construction industry, for Consultant Engineers, Clients, Local Authorities, Contractors and alike, as well as for site investigation businesses to establish underground details at the earliest stage in a project.
By creating detailed CAD drawing of underground features such as utilities of all types, structures, voids, bedrock profiles etc, allows the customer to gain an important insight into his site prior to design or excavation taking place.
Desktop mapping, Consultancy, Geophysical mapping and Underground Utility mapping are the 4 main activities of the company.
Quality
ISO 9002
UVDB
Mentor H&S accredited
EuroGPR members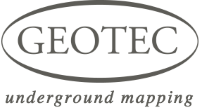 Address
PO Box 99
Godalming
Surrey
GU7 2XT
Telephone
01428 686168
Fax
01428 686169
Email
Web
Locations
Godalming – Head Office
Killyleagh Co. Down NI
Doncaster South Yorkshire
Dublin
Contacts
Tom Skilleter – Senior Project Consultant