JBA Consulting
JBA Consulting
JBA Consulting is an environmental, engineering and risk company committed to exceptional client service and helping to improve the environment, business, and infrastructure.
We employ specialists and non-specialists, managers and administrators. When brought together, JBA is capable of working across projects as diverse as providing strategic advice, undertaking feasibility studies, carrying out field surveys and inspections and detailed design and site supervision.
As well as an extensive list of related services, which can be viewed on our website, JBA has a track record of producing bespoke software systems and tools to assist in data management.
We provide quality training courses for all aspects of the water and environment industry, including related subjects of GIS and Surveying for River Models.
JBA's success was recognised when the company was named the New Civil Engineer/Association of Consulting Engineers Consultant of the Year for 2010. We aim to be nominated again in future years.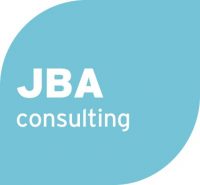 Address
1 Broughton Park,
Old Lane North,
Broughton,
Skipton,
North Yorkshire BD23 3FD
Telephone
01756 799919
Fax
01756 799449
Email
Web
Twitter
Locations
Atherstone, Doncaster, Edinburgh, Haywards Heath, Limerick, Newcastle, Newport, Saltaire, Skipton, Tadcaster, Thirsk, Wallingford, Warrington
Contacts
Robbie Cowan
Robbie.Cowan@jbaconsulting.com
Jeremy Benn
Jeremy.Benn@jbaconsulting.com