Geotechnical Engineering Ltd
Geotechnical Engineering Ltd
Geotechnical Engineering Limited has been operational since 1961. Independently owned, we've earned an enviable reputation for providing high quality services nationwide.
As a company we deliver a comprehensive range of site investigation services to a broad variety of markets including transportation, construction, renewable energy, utilities and the environmental sector. Our services include in-situ testing and monitoring, a range of drilling services, soil and rock testing, Geotechnical and Geoenvironmental engineering services and advice.
Capabilities include:
Full utility surveys
Service clearance surveys
Drainage surveys
Land and Topographic surveys
Borehole GPS surveys
Desktop Utility searches
CAD drawings
We know that getting good quality information about the ground is vitally important for the successful outcome of any construction project or land transaction. We've got the knowledge, kit, expertise, contacts and agility that you'd be hard pressed to find anywhere else.
As a company we provide unique solutions for what is often considered to be a very traditional discipline within Civil Engineering. We have invested heavily in research and development, and are keen innovators within our field. We also have our own laboratory on site, meaning that we rarely need to outsource in order to complete the job
Geotechnical Engineering employ over 150 staff who are highly experienced, professional and able to adapt to different complex projects and situations. Our Board of Directors and several employees are active members amongst a range of professional, trade and technical communities.
Quality
Accreditations and awards include:
CSCS Platinum Awards
LinkUP (rail)
UVDB (utilities)
SafeContractor
OHAS
EXOR
BESC
ConstuctionLine
National Grid 'Competent Person'
Network Rail PTS and IWA
Energy and Utility Skill Register (EUSR)
Safety Passport Alliance (SPA)
WRSWA Streetworks supervisors and operatives
ISO accreditation in the areas of Quality, Environment and Health and Safety.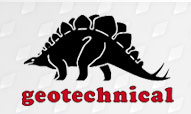 Address
Centurion House
Olympus Business Park
Quedgeley
Gloucester
GL2 4NF
Telephone
+44 (0)1452 527743
Fax
+44 (0)1452 729314
Email
Web
Twitter
Linked In
Locations
Gloucester, but we work nationwide
Contacts
Zak Millward