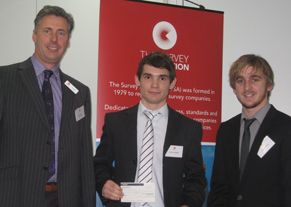 The title of this news item is a direct quote from a very happy TSA member – one of many who attended the Discussion Group on 2 November 2011. The venue was the Imperial War Museum North, a truly splendid and thought provoking place to hold a series of discussions on 'The Past, The Present and The Future'.
Presentations were made by TGF Safety, Creditlook (a new member service), MHP on the Political environment, Autodesk/Cadassist on BIM, the London Mapping Festival and also Neil Ackroyd from Ordnance Survey.
TSA was also delighted to award a Student Bursary to Andrew Templeton and Jonathan Caltieri (pictured with TSA President, Graham Mills), currently studying for BSc in Surveying and Mapping Science at Newcastle University.
In the 'Big Debate', LTU, Topcon and FARO all had their take on what the next five years might look like in the survey profession. Neil Ackroyd then joined the panel for an interesting discussion covering a variety of issues.
Members clearly enjoyed the day and gained a lot from it:
"It was day of thought-provoking talks and an invaluable insight into the future."
"A superb day!"
"Well attended by an enthusiastic group."