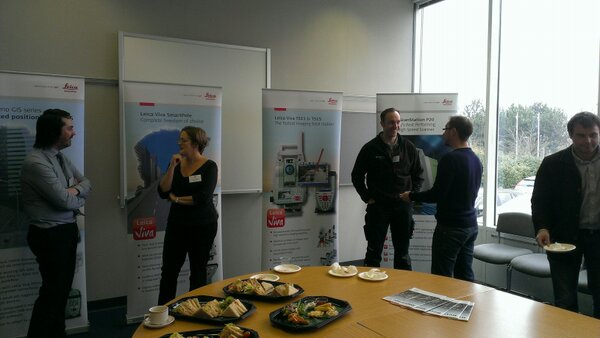 TSA held it's 7th consecutive annual Free Health and Safety Seminar for Members on 13th February, once again hosted generously by Leica Geosystems and presented by Martin Mulholland and Geoff Davies of MD Safety Management.
Members arrived in good time, enjoying a warm welcome and a hot cup of tea or coffee before the seminar began.  The morning session covered important updates to Health & Safety Legislation and a sobering look at what happens 'When it all goes wrong'.  Martin and Geoff explained in great detail the role of the HSE when they come to inspect a business or conduct an investigation after a serious or fatal accident.
Lunch was then provided, with the opportunity for further discussion about the topics covered and also a good old-fashioned gossip about all things survey-related.  Networking is one of the most valuable benefits of membership that companies enjoy.
Suitably refreshed, the afternoon session allowed surveyors to find their inner actor as they engaged in role play.  Martin and Geoff posed as HSE Inspectors, carrying out interviews in the aftermath of a serious incident.  Members used their grey matter to apply themselves to the correct procedures and paperwork, in three teams – each representing a different company/organisation involved.  Despite the serious subject matter, waves of laughter were regularly heard as 'Mike Raffone' and 'Phil Itin' carried out the interviews.
Feedback has been excellent from attendees, comments such as "very relevant", "well presented", "essential" and a "good, friendly atmosphere" have been received.  Here's to next year!