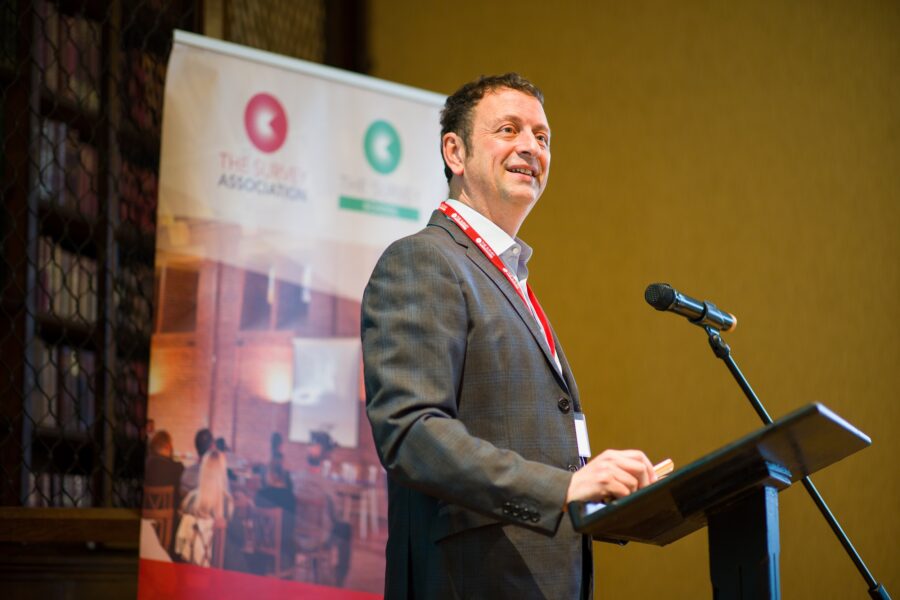 We were thrilled to welcome around 70 members to our Annual General Meeting at the beautiful Elvetham Hotel in Hook, Hampshire on Wednesday 30th March, our first in-person AGM since 2019.
Our guest speaker for the event was primetime TV presenter Matt Allwright. Renowned for his work on consumer rights programmes, such as Watchdog, Rogue Traders and Fake Britain, Matt addressed the dynamics of trust in a compelling speech, leading on to the importance of credentials and trade bodies in upholding professional standards and maintaining consumer confidence.
Following the AGM, where our 42nd annual report was presented, awards presented on the day included our prestigious President's Award, sponsored by Lockton. This year the award went to Mark Lawton, Head of Engineering, Surveying & GIS at Skanska. Chair of the Survey Liaison Group since 2018, Mark is a keen advocate of the geospatial profession. He has led education and training initiatives, including establishing the Geospatial Apprenticeships and has carried out much of this work on a voluntary basis.
Awarded for the first time this year, the Survey Skills Champion award went to Steve Hurp. Our President, Nick Hampson, selected Steve as the winner 'in recognition of his outstanding investment in the future of the geospatial profession'. Owner of Evolution Surveys, Steve has tutored at The Survey School for many years. He has also played a key role in the DEC Survey School, an online platform that gives sixth form students across the country a taste of the surveying profession, whetting their appetite to pursue careers in the sector.
Delegates at the AGM also took part in round table discussions on a variety of topics, ranging from data security, plus the acute skills shortage to setting sustainable fee levels. There was also a technical presentation, with Graham Brown, CEO of ARPAS-UK, providing information on an excellent ARPAS CPD programme on drones, as well as plenty of opportunities for everyone to enjoy some informal networking.
Commenting on the day, President Nick Hampson said,
"It was a great pleasure to see so many of our members at our first major in-person event since the pandemic began. It was so interesting to hear Matt's thoughts on the importance of trust in our profession and the significance of our role in maintaining standards while helping customers understand complex and technical issues. The vibrant discussion forum has given Council plenty of ideas to feed into the next Council meeting in April." We hope all attendees enjoyed the day as much as we did. To keep up to date with events in TSA's calendar, go to https://www.tsa-uk.org.uk/events/