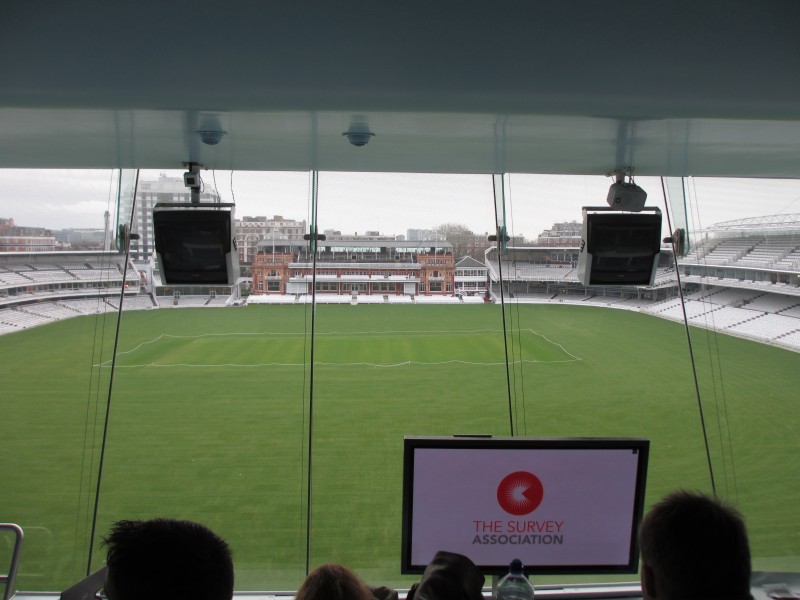 On a freezing 6th December, TSA took up a small exhibition space at Mapping Showcase – the final event of the hugely successful London Mapping Festival. The venue for this day-long event was the wonderful, historic Lord's Cricket Ground. From the tone of this description, I hope you will realise that this was a real treat for both myself and Rory – big cricket fans. It also coincided with England's cricket captain, Alistair Cook, simultaneously making history in India with his record 23rd Test Century. All good omens for the day and we were not disappointed.
The Nursery Pavilion was our home for the day, providing a wonderful view of the back of the iconic Media Centre. There were 45 exhibitors and hundreds of visitors during the day, covering a very wide spectrum of people involved in the surveying industry. Throughout the day there were 20 minute Masterclasses in the North and South 'Techno Hubs' on a huge variety of topics. Everything from latest software innovations to new approaches to old problems were covered. Two Keynote sessions were held in the Media Centre, giving us a chance to have a wonderful view of the ground – and of course also hear industry leaders speak! Mark Combes, TSA Council Member, gave a talk on 'Movement, Measurement and Modelling' which was very well received.
A very enjoyable day all round and here's hoping that the recent resurgence of the England cricket team is matched by better times for all in the surveying profession.