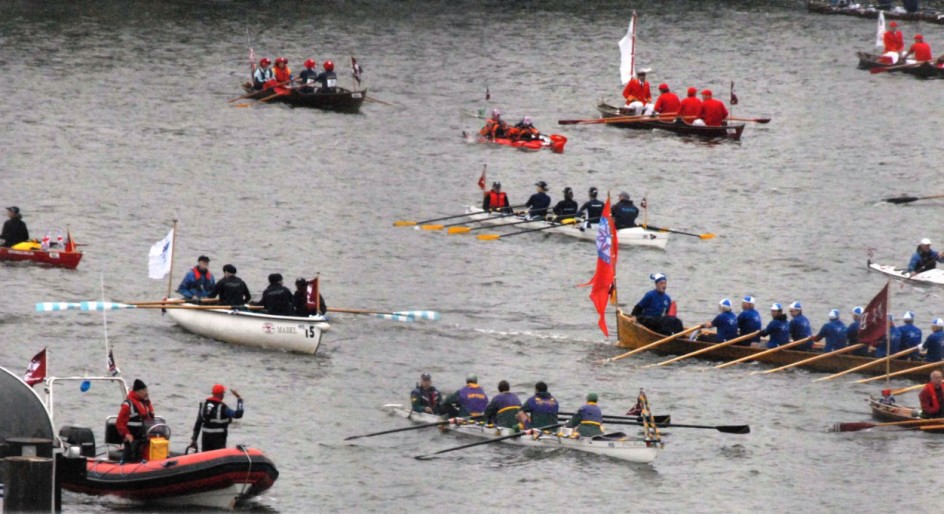 TSA's Technical Committee Chairman, Peter Barker, took part in the Diamond Jubilee River Pageant in June.  Here is a fascinating account of the day, kindly provided by his fellow crew member Ron Paterson:
A crew from Upton (Annie, Maurice, George and Peter, with me at the helm) had the privilege of rowing through London in the Queen's Jubilee Pageant on 3 June, as one of a dozen Explore boats admitted to the event under the auspices of British Rowing. We got very wet, fairly cold, but were nonetheless elated by the whole experience, and proud to have been part of a great event that will never be repeated.
In the nautical parlance of the organisers, I was designated the 'Master' of our 'Vessel', a rather grandiose title that brought with it the burden of compliance with myriad regulations. I had to establish my competence to navigate on tidal waters, and prepare a 'Port Passage Plan' setting out our proposed route down the river ('follow the others' should have sufficed, you might have thought). We all had to submit substantial personal data to the Metropolitan Police to persuade them we were not jihadists, and carry passports at all times to prove that we were not impostors. We had to submit our boat to thorough inspection and insure it to the hilt, lest we should ram and sink the Royal Barge. And I had to satisfy myself that on the day I was 'in a good state of health, well in mind and body, properly rested and not under the influence of drink or drugs' – a happy conjunction of circumstances that is all too rarely found among members of Upton RC.
It is interesting how the perils that the organisers were so clearly worried about contrasted with the primary concerns of the crew. Our only real anxiety was how to cope with spending many chilly hours in an open boat in front of a million spectators and a global television audience alleged to be 3.5 billion, but with no access to a loo. I never found out what penalties could be imposed on Masters whose crews committed an act of public indecency in the presence of Her Majesty, but I expect it would have been located in a section of the regulations marked 'Treason'.
With a thousand boats on the river and many of London's roads and bridges closed to traffic on the day, the logistics of getting our boat to and from the Tideway were going to be challenging. We decided to launch it the day before in Weybridge and row down the Thames to Putney with some other crews from Weyfarers and Walton – a distance of 22 miles – and Weyfarers kindly agreed to trail it back to their club after the event as well as transporting us in their minibus.
Little did we realise that Weyfarers' boathouse is completely inaccessible by road! We had to unload our trailer a quarter of a mile away and carry the boat from there down a narrow path and over a humped-back footbridge in order to get to the river. But in all other respects, this was a great place to start from, and their club members were endlessly helpful and friendly. We set off down the river, through Walton (where I remembered having raced in the Queen's Silver Jubilee Regatta, exactly 35 years before), Molesey, Hampton Court Kingston and then Teddington lock, where we obtained our individual accreditations and then joined the tidal Thames.
Here we found the tide rising strongly against us, so we stopped at Richmond for it to turn and give us the benefit of the stream to speed us on our way. Up till this point, the river traffic had been surprisingly light, but from then on we met more and more Pageant craft of all shapes and sizes as we continued down to Putney, where we were able to store our boat in London RC's boathouse.
On the following morning, we arrived early at our embarkation site at Putney, with more hurdles to surmount. We had to confirm our identities again, and then demonstrate that our boat was up to scratch before we could receive the distinctive Pageant flag that was our passport to the river; any boat not displaying this flag would be immediately arrested by the river police and would take no further part. So we were not best pleased to discover that the organisers at Putney had lost our flag and didn't have any spares! After we had given them the benefit of some robust observations on the quality of their administrative processes, they agreed to contact their bosses to see what could be done to rectify the situation.
Time passed. We paid a number of further calls to the Flag office, in case they had forgotten any of our previous observations on their processes, but returned flagless on each occasion. But finally, and not long before our deadline for going afloat, a motor bike courier appeared from somewhere or other with a precious spare flag. We snatched it from him (rather peremptorily I'm afraid), installed it on our boat, and took to the river.
It had been grey and drizzly all morning, with a keen east wind keeping the temperature low, but the conditions were not unpleasant for rowing. We picked our way through the mass of boats to the holding area in Wandsworth, where we waited. And waited. And waited a bit more – for about an hour and a half– while nothing much happened. (Well, what's the point of creating a holding area, if you don't hold people in it, I suppose?) But it was fascinating to see so many different kinds of man-powered boats crammed together all around us – naval cutters, skiffs and shallops, an ocean racing boat, Cornish pilot gigs, an Irish Currach, Welsh Longboats, a Viking ship from the Isle of Man, a Yorkshire Coble and a Shetland Yoal, whaleboats from the Americas and the Antipodes, Venetian gondolas, Dragon boats, a Finnish church boat with 14 rowers, Australian surf boats, Hawaiian and New Zealand war canoes and a traditional Herefordshire trow that had been specially built for the occasion in Gloucester Docks. One boat was crewed entirely by Robin Hood lookalikes with Friar Tuck at the helm; another was a Welsh coastal boat whose rowers were all dressed as sheep. (All of this fascinating diversity, of course, somehow escaped the attention of the BBC, as did almost every other interesting aspect of the event that they were meant to be presenting to the viewers.)
At last, the instruction came to set off. The plan was that we would all line up nine abreast in a very precise grid formation which we would maintain all the way to Tower Bridge, with every boat keeping an exact pace of 4 knots. Not even the organisers really believed that this would happen, and it didn't. Some boats found they couldn't maintain this speed in the growing headwind, and they gradually fell back and got in the way of all those behind them. Being in one of the faster classes of boat, our problem was trying to go slowly enough to avoid running into the crews in front. So before long, the formation degenerated into a free-for all, where the challenge was to pick your way down the river by aiming for whatever gaps emerged in the traffic, and be ready for an emergency stop whenever the whole thing jammed up completely. But in fact, this didn't really matter – if anything, the general anarchy enhanced the spectacle.
The crowds were immense even before we got to the official starting point at Battersea, and then throughout the next seven miles, on both banks of the river and on every bridge, and on every balcony and at every window that overlooked the river. The noise was deafening: cheering crowds, ship's hooters, helicopters flying overhead. We passed the royal party at their initial saluting base at Albert Bridge and then proceeded on down the river in a great melee of craft, past Battersea Power Station, Vauxhall Bridge and MI6; Lambeth Palace, County Hall and the Houses of Parliament; Waterloo, the London Eye and the South Bank; Blackfriars, Southwark and the Tate Modern; London Bridge, then close beneath the looming height of HMS Belfast, and finally through Tower Bridge to the end of the official route.
By this time it had stopped drizzling. Instead, it was bucketing down. The earlier breeze was now a capricious, gusty wind that whipped up the water, and although we had completed the route, we had another five miles to row before we could disembark. With so many boats to deal with, the organisers had prepared an elaborate dispersal plan to get us all off the river, and our instructions were to row right round the Isle of Dogs and go ashore not far short of the Dome. This became much more challenging as the weather turned from bad to worse. A strong headwind drove the rain at us horizontally, and the water became extremely rough. It took us another hour and a half to limp all the way round to our disembarkation site, but even on this stretch, there were crowds of people cheering us on our way all down the river, which helped to maintain our spirits. We eventually got ashore on a muddy, rubble-strewn shore after nearly six hours in the boat, still in driving rain and freezing cold.
But there was a final unexpected treat in store; a local Indian restaurant opened its doors and laid on a free buffet meal for all the participants, and politely ignored the fact that we were covering their floor with dripping rainwater and mud. A lovely ending to a memorable day.
And finally, if you would like to discover just how much the BBC failed to tell you about the event, it is all on the organisers' excellent website at www.thamesdiamondjubileepageant.org.