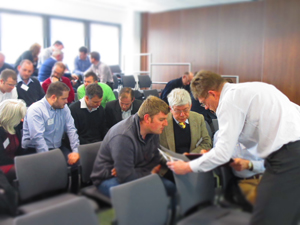 On Wednesday 18th March, TSA held the 9th consecutive annual Health & Safety Seminar for members.  As ever, Leica Geosystems generously hosted the day at their HQ in Milton Keynes.
Martin Mulholland and Geoff Davies from MD Safety Management ran the seminar, with nearly 30 delegates in attendance.  Mike Skicko, Field Sales Manager for Leica, welcomed everyone and also provided tours of the building at lunchtime.
The morning session kicked off with a sobering video, impressing upon everyone the fact that health and safety is all about people – quite simply preserving life and keeping people safe from harm.
Martin and Geoff brought everyone up to date with the latest updates to Health and Safety Legislation, including RIDDOR and CDM2015.
The subject for the day was Working at Height and the background in legislation and requirements was covered.  Members were then divided up into small groups, where they carried out a Risk Assessment exercise.
After a tasty lunch and some valuable networking time, the afternoon session was wholly taken up by a Work at Height Safe System of Work workshop.  Members were able to spread out across three rooms and proceeded to work very hard.
The day finished just after 3.30pm, with a lot of ground having been covered.
MD Safety run TSA's Health & Safety Scheme and will be contacting members in April to renew.
Members got a great deal out of the day – 100% of them found the day worthwhile, which is exactly what we hope for, and why we lay on such events.
"A worthwhile seminar which definitely increased my awareness of working at height"
"Very informative presentation and I liked the break out sessions which helped put some real context to the information contained in the slides."