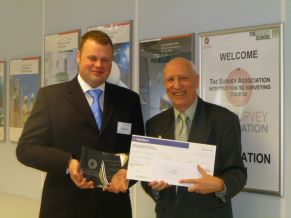 The annual awards ceremony for the graduates completing the TSA Introduction to Surveying Course, 26 & 27, was held on the 17th June 2011 at The Survey School.
This year just ten students completed the course, a sign of the times perhaps? However, what was lost in quantity was more than compensated for in quality, including one student from Hong Kong.
Each year, TSA and Leica jointly sponsor the Best Student Award. This year the award went to Dan Gosling of Laser Surveys who received a TSA plaque, the Leica Shield and a cheque.
The awards were presented by David Price (Leica) and Rory Stanbridge on behalf of TSA. In addition to the best student prize, there were distinctions for Peter Farmer of Severn Trent Water and Michael Turner of Maltby Land Surveys. Well done to all the students!