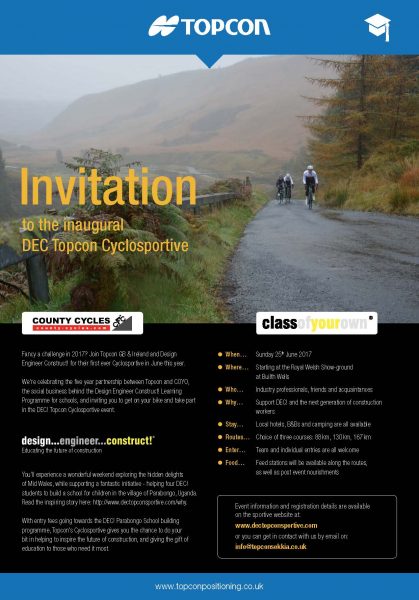 Join Topcon GB & Ireland and Class Of Your Own for the first ever Cyclosportive in June this year.
We're celebrating the five year partnership between Topcon and COYO, the social business behind the Design Engineer Construct!® Learning Programme for schools, and inviting you to get on your bike and take part in the DEC! Topcon Cyclosportive event.
You'll experience a wonderful weekend exploring the hidden delights of Mid Wales, while supporting a fantastic initiative – helping four DEC! students to build a school for children in the village of Parabongo, Uganda. Read the inspiring story here.
With all entry fees going towards the DEC! Parabongo School building programme, Topcon's Cyclosportive gives you the chance to do your bit in helping to inspire the future of construction, and giving the gift of education to those who need it most.