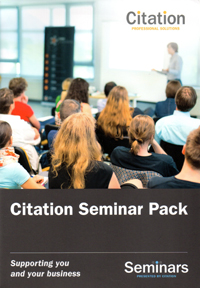 The most important component of any successful business is the staff and it is vital for continued success that they are treated correctly and with respect.
TSA supplier member Citation today held its first breakfast session in Blackpool, which I attended, as part of a nationwide tour on HR, Employment Law and H&S issues. The early morning session being promoted as a "Background to Awareness!" These two hour sessions are delivered in a friendly yet informative manner with the opportunity for questions on any of the issues discussed at the end. The point was made that over the last twelve months very little has changed in employment law but this is likely to change as we move towards Brexit.
For any business that does not employ a dedicated HR person, the advice and guidance given is essential to ensure that a company is working within the law in relation to its employees. Topics covered included recruitment, advertising of jobs, dismissal, CVs, interviews, application forms, productivity, absence, self-certification and employee rights of which there are a total of eighty three (83) currently in law. The need for employee contracts of employment, now to be issued after eight weeks employment, and employee handbooks was covered in great detail and was quite an eye opener at times.
Sometimes, these types of seminars can be used to frighten the attendees but this was never the case here as the seminar moved on to H&S issues and some of the new legislation in place.
TSA circulated the membership on the 12th September about this series of seminars and having attended one I can honestly say that it is one of the most informative two hours I have spent in a long time. If you employ staff, take a morning of your time out of the office and see if you are complying with the law. If you are unable to do this, Citation will visit your offices and make sure that you have procedures in place to ensure that you will minimise the possibility of you ever becoming a victim of our ever increasing litigious society.