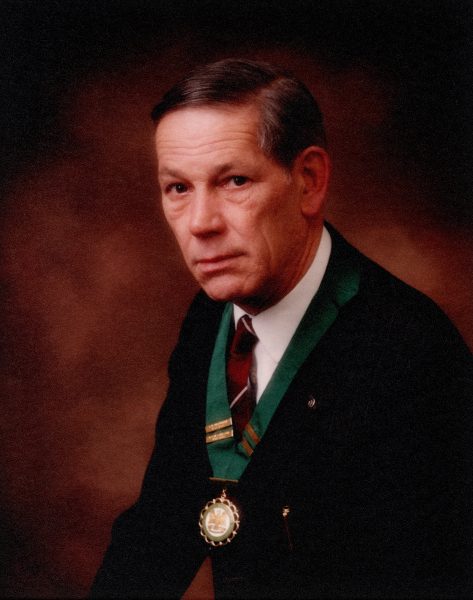 Michael Oliver, one of the founder members of TSA, sadly passed away on the 6th August 2019 after what can best be described as a ground breaking and illustrious career as a surveyor. Michael will be fondly remembered by those doyens of the survey profession as a man of great imagination and professionalism.
Michael commenced his career in surveying with the Ordnance Survey in 1949 before undertaking his 2 years of national service in 1951 with the Royal Engineers. School of Military Survey, serving with the Topographic Squadron in Egypt, Iraq and Cyprus. On leaving the services, Michael joined a firm of geophysical consultants working mostly overseas in Sicily, Arabia, Burma, Punjab and Kenya. He remained in this role until 1964. Before departing to work in India, he met his wife to be, Margo, who he married in 1960 in Rawalpindi.  In 1964 he joined a private surveying company where he remained as a senior surveyor and director until 1968.
In 1968, Michael formed M N Oliver & Co where he remained until 1995 when he went into semi-retirement. The company became a byword for providing quality engineering surveying linked to imaginative and original techniques to gain the best possible results. Major projects were undertaken in the UK as well as Sudan, Kenya, Nigeria, Libya, and Saudi Arabia. In addition to working on the Glasgow and Manchester Metro Schemes, Erskine Bridge and numerous other major projects, one of Michael's most prestigious jobs was a contract at Dinorwic Power Station in Wales where he was responsible for the establishment of the primary control & setting-out of all tunnels, shafts & machine halls. This project lasted for four years and having also worked there myself, I can vouch for the enormity of the task. I can still recall the amazement I felt when I first entered the cavernous underground machine halls to undertake an "as built" survey.
I met Michael on a number of occasions at TSA events in the early days and always found him to be both welcoming and enthusiastic about his work. I recall the work he undertook on the measurement of cooling towers in the mid 1980's about which numerous articles have been written. Michael's son Norman also worked with his Father on some of these surveys and now recalls "The original cooling towers shape surveys were carried out by a 3 person team working at night with a laser operator projecting a dot onto the tower shell and two observers recording angles from known stations to the dot (I remember most of the surveys were carried out in the winter as the nights were longer but the downside was some bitterly cold nights!). The technique was developed by my father and was an extension of one of his favourite methods for surveying remotely…… this involved lobbing tennis balls or any other suitable object onto the surface to be measured and intersecting the target! I recall at one time a bow and arrows being tested, obviously these were the days before RAMS and H & S policies!" A great example of Michael's imaginative approach to a difficult task.
The Cooling Tower surveys continue to this day and it seems to be rather poignant that the demolition of the towers at Ferrybridge Power Station (one of the first stations to be surveyed) started just a few days before Michael sadly passed away.
In Michael's semi-retirement, he carried on as a consultant for his son's company, N D Oliver & Co Ltd undertaking both boundary and construction dimensional disputes, providing the courts with the knowledge and wisdom gained throughout his illustrious career.
Michael was one of the original Council members of TSA and served the association with real passion and involvement from 1979 until 1993. He worked on a number of committees one of which helped to develop the Rules of the Association. I believe he will be able to look back at his involvement with great pride and think that he has helped to develop TSA into the dynamic association that we see today. He can also be rightly proud of the surveying knowledge he has imparted throughout his distinguished career and from which his son Norman is now benefitting.
Michael's time on Earth is now over but his legacies, both personal and professional will live on. He is survived by his wife, Margo, his children Norman, Martin, Helen and Ruth and his grandchildren Abi, Elliott, Megan, Ewan, Natasha, Charlotte and Joe. Anyone who met Michael through their work will remember a "surveyor to the core" and a quite remarkable man. RIP Michael.
Rory Stanbridge