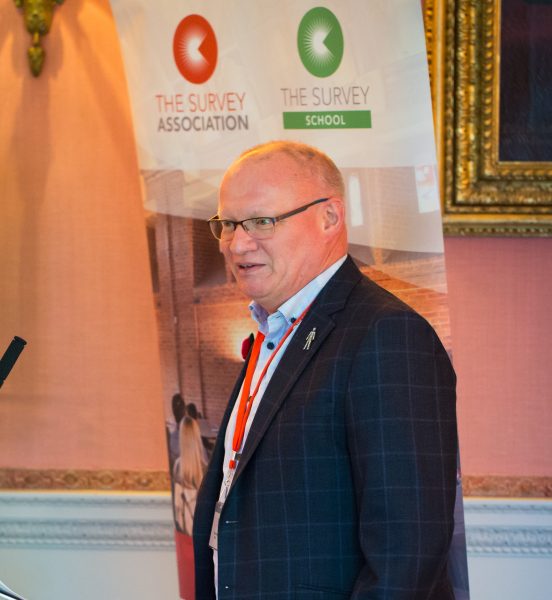 Nick Hampson was elected as TSA President in April, following Adam Bradley stepping down after having served for four years in the role. Once we are able to meet in person, TSA will be celebrating Adam's incredibly successful tenure as President. Nick served for four years as Vice President alongside Adam and outlines his background and hopes for TSA as we move through the pandemic and into a new world for everyone.
"I'm delighted to take over the reins as President of TSA and intend to work on behalf of the membership so that TSA continues to provide an invaluable source of support and information, a useful and popular forum for discussion, and an enviable education service through The Survey School.
I've discovered that TSA's first meeting was in 1980, and that coincides exactly with the start of my own connection with the surveying profession. The technology that we use has changed beyond imagination in that time, but I was interested to find the following two comments from Rory Stanbridge's notes on the purpose of the founders of TSA:
That "the industry lacked direction and purpose, whilst also being relatively unknown outside its own corridors"
The benefit of TSA was "to improve the status of the surveyor by barring less reputable operations from membership, and to increase turnover by being able to charge economic rates"
I think that TSA has helped us to take great strides forward in terms of our direction and purpose, although we still lack the influence that we deserve, and we are working with the Geospatial Commission to try to address that. TSA is now widely recognised by our client base and I believe that has improved our status, although we know from QISS polls that, 40 years on, low fees remain a principal cause for concern.
TSA thrives as a result of a well organised and effective Secretariat, a healthy membership, the increasing engagement of members in TSA activities and the continuing efforts of those who volunteer on Council and in other capacities to help us move forward. As we emerge from the shadow of the pandemic we are working to create more influence and to provide more support and information for members. I'd welcome all constructive comment and involvement to keep TSA at the forefront of our profession."
Nick Hampson