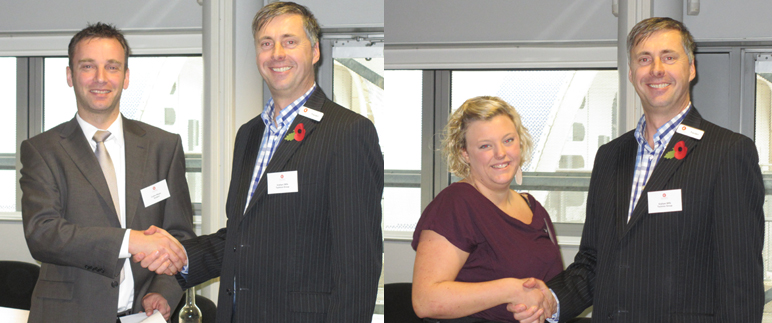 TSA held it's Discussion Group meeting for members on 7th November, hosted by the fabulous National Space Centre in Leicester.  The title of the day was 'Above and Below', encompassing survey techniques applied in the air and below ground.  The agenda and speaker line-up were truly impressive.  In the 'Above' session, Mike Hall and David Turnbull from Infoterra, Martyn Palmer from KOREC and Anthony Mills from Trimble covered the very latest technology in airborne surveying.
TSA is running the Bursary scheme for a second year, with the winning students Cedric Meyer and Charmaine Jarvis from Newcastle University receiving their cheques from TSA President, Graham Mills.
Members were then ushered into the Sir Patrick Moore Planetarium for an incredible show, 'We Are Aliens'.  Apparently Star Trek fans will tell you that it takes 70 years, at Warp Speed, to travel across our galaxy. Well, this only took 30 minutes and was brilliantly put together.
The lunch break provided an opportunity to re-fuel, before entering the rarefied atmosphere of the Space Centre itself.  Members had the opportunity to access the whole Centre and wander around the many interactive exhibits.  Some chose to stay and network over the extended lunch break – probably one of the best and most enduring benefits of TSA membership.
Thanks to the wonders of the internet, the afternoon session, 'Below', kicked off with a live presentation from Cardno TBE Senior Vice-President, Nick Zembillas, in Florida regarding SUE (Subsurface Utility Engineering) and how it applies to the UK.  Andy Rhoades of BAA spoke dramatically about the importance of having accurate data and the risk of digging in the wrong place at Heathrow, sometimes with explosive consequences!
The afternoon then switched to Geophysics – or 'Geofizz' – with Tim Grossey from RSK Stats who was then followed, very memorably, by John Gater from Channel 4's 'Time Team' programme.  John shared many amusing stories – and images – from behind the scenes.
All in all, it really was a memorable, useful, informative and enjoyable day for the members in attendance.  We are already planning the next one!