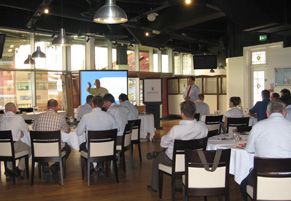 Feedback received from attendees:
These sessions alone make it worth joining TSA.
Excellent day, all totally relevant.
Very enjoyable event set just at the right tone / level.
Two very good speakers providing relevant, thought provoking information.
TSA ran another in the series of Business Seminars on 30 June at Villa Park. This was fully subscribed again and proved to be a very worthwhile day for all those who attended.
The morning session was entitled Finance for the non-finance manager and was presented by Chris James of Berg Kaprow Lewis. The topic was relevant, particularly in the current climate, and the information provided was very useful.
In the afternoon, David Emslie of BlueSky presented the huge business and marketing advantages to be gained from having a properly set-up profile on Linkedin. His presentation is availble for members to download from the Members Area.