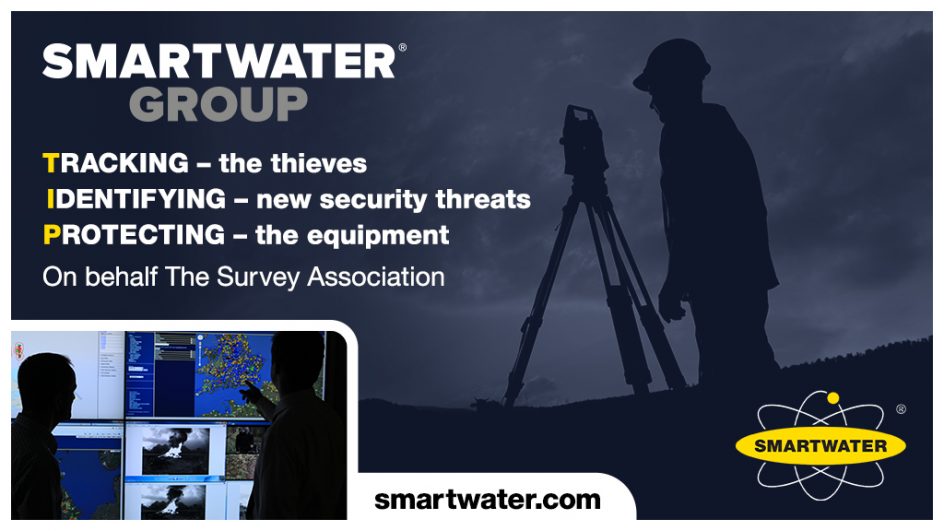 Forensic marking company SmartWater is working with The Survey Association (TSA) and survey equipment manufacturers to help tackle the growing problem of surveying equipment theft.
Increasingly, criminal gangs are targeting building and transport construction sites to steal expensive surveying tools.
SmartWater has been working with TSA for the past two years, mapping organised criminal gangs targeting survey equipment nationally and providing support to police investigations. 
Members of TSA report their crime data to SmartWater's team of experienced Intelligence Analysts study the information and build up informed patterns of criminality, but this is just one part of the work they do.
The construction industry is similarly targeted by the same criminal gangs. When businesses lose valuable equipment projects are seriously disrupted and livelihoods lost.
SmartWater proactively use the data to build as full an intelligence picture as possible, helping to pinpoint the activity of Organised Crime Groups. 
In support of the partnership between The Survey Association, equipment manufacturers and the police, SmartWater urges those in the construction industry suffering high value equipment theft to report their crime incidents to donotreplyanalysts@smartwater.com. 
TSA President, Adam Bradley says: "It is vital that TSA Members, and those in the wider construction industry impacted by theft, continue to provide SmartWater with the data needed to disrupt organised criminal activity. Reporting every incident of theft and attempted theft to SmartWater builds the evidence required to make arrests and recover stolen equipment."
Adds SmartWater's CEO Phil Cleary: "SmartWater is making it much harder for criminal gangs to get away with targeting surveyors. As well as continuing our partnership with TSA, we are also working directly with the three major manufacturers of surveying tools – as well as police forces across the UK."
"Stolen equipment be easily identified, enabling legal cases to be brought against criminal gangs and our new CIAP centre is helping to prevent thefts happening in the first place by providing intelligence to clients."
SmartWater is currently the only forensic system compliant with the HO Forensic Science Regulators Code of Practice and therefore the only solution currently admissible in court.