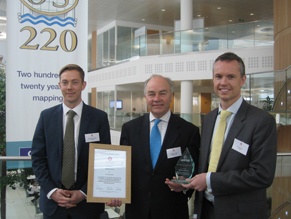 On Thursday 19th April, TSA held it's 32nd AGM at the new HQ of Ordnance Survey, Explorer House. The highlight was the presentation of this year's President's Prize, sponsored and presented by Lockton, to an astonished Matt French of Fathoms. Matt has served on Council since 2008 and also shouldered the role of Chairman of MIA (Membership & Internal Affairs) Committee for the last three years. He will be sadly missed by all, not least for his willingness to go far beyond the call of duty on behalf of the whole Association and also for his personal charm and wit that he brought to all meetings and conversations. Rachel Tyrrell also presented Matt with a special 'Certificate of Appreciation' from The Secretariat. The winner of the Prize also nominates a charity to receive a cheque of £100 and Matt has chosen his local branch of the Royal British Legion.
Following the AGM, there were three speakers talking under the general heading of 'Teach Your Children Well'. Ken Lacey from OS spoke on the work that they are doing in getting mapping resources to children and teachers. Alison Watson from 'Class of Your Own' followed this up with a passionate explanation of her vision to have surveying and engineering as part of the National Curriculum. Stuart Edwards of Newcastle University then rounded off the educational process by talking about what the University offers to undergraduates and postgraduates.
After lunch and a chance to network, the afternoon session began with Danny Hyam of OS giving an update on OS products. Peter Clarke and Nigel Penna of Newcastle University then took attendees through the background to the original Network RTK report and the subsequent update to include GPS/GLONASS Network RTK. This new Report and Best Practice Guide were commissioned by TSA, in collaboration with OS, Leica, Trimble, Topcon and RICS. The new Report and Best Practice Guide are now available in the Guidance Notes section of the website.
Presentations from Alison Watson, Stuart Edwards, Peter Clarke and Nigel Penna are available as pdf files in the Members Area of TSA's website. Impressively – a few days after the AGM, Alison Watson flew to the States, where her Highfield Humanities College came second in the School of the Future competition in Washington DC!
Some feedback from attendees:
"This has to have been one of the most important, vital and useful as well as enjoyable AGMs in the history of TSA"
"A very good day with an interesting and balanced line-up of speakers."
"I thought it was a great day and a terrific opportunity to network."
"Superb location and a great variety of enthusiastic speakers."