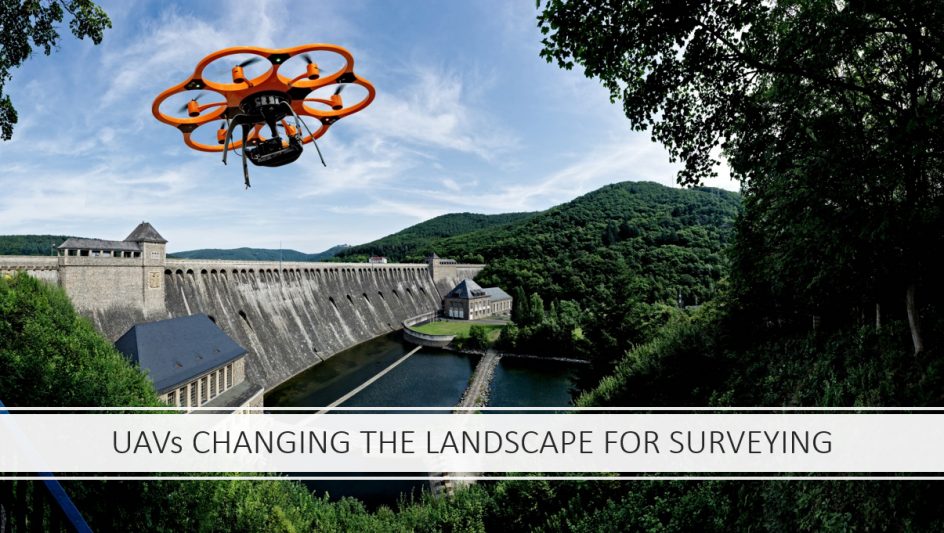 TSA were asked to give a presentation at this year's Commercial UAV Show, held in November at London's ExCel exhibition and conference centre.
Representing TSA at this well attended event was Council Member and PR Committee Chairman, Oliver Viney. His 30-minute talk, titled UAVs, Changing the Landscape of Surveying, offered an excellent opportunity to engage with a capacity audience who were interested in both TSA and the benefits of using a TSA member when procuring aerial surveys.
The presentation focused on several related topics. First, Oliver gave the audience background information on TSA and its vision. As the audience were mainly outside the profession it was also useful for Oliver to outline a little of the historic perspective around aerial surveys.
He explained that photogrammetry has been used for aerial surveys for centuries, but with the development of sophisticated cameras and software, as well as UAVs, commercial surveyors have quickly adopted the new technology.
He also discussed the danger of using a non-surveyor to carry out aerial surveys from UAVs, stressing that checks should be made on competencies and experience. He gave the audience a series of fundamental questions that they should put to a company or individual offering this service. For example:
Are they using Ground Control?
What quality control measures are in place when processing data?
Do they carry our Ground Truthing?
Do they hold the necessary permissions, licenses and insurances to carry out this work?
Oliver went on to highlight some examples of the work TSA Member companies do, using UAV technology. These include the award-winning Vogel R3D system from Plowman Craven, a range of applications by Historic England and a mapping project of Burial Grounds by Atlantic Geomatics.
The audience were then shown how surveyors can combine data from multiple sensors to create 3D models.  Using Laser Scanning and imagery from UAVs a geometrically accurate 3D model of St Michaels Mount in Cornwall was created for CyArk.  The audience were fascinated to learn that CyArk  https://www.cyark.org/  are an organisation that specialise in creating in 3D Models of iconic sites across the globe, so that they can be rebuilt in the event of their destruction.
Oliver concluded his talk by posing a few questions about the future. Will the need for Ground Control be eliminated with improvements in on-board GPS technology? Do we need to improve the resolution of the imagery? Are UAVs now an essential piece of a surveyor's armoury?  Most TSA Members would agree that UAVs complement their existing equipment and provide added benefits to clients, by enabling surveyors to capture reality in new and exciting ways.
UAVs can be used across a range of industries, so the Commercial UAV Show offered an opportunity for TSA to highlight their relevance for the Geospatial profession.