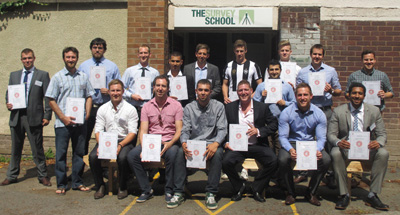 Bill Pryke of Chartered ICES states that the TSA Graduation Day held annually in Worcester is just about his favourite event of the year. The latest event held at the end of July proved to be just as successful as previous years as a total of twenty three students graduated through the TSA Surveying Course after a two year period of study.
The senior tutor, Andrew Crumpler, made the point that the latest students had achieved some of the highest marks he has awarded since the course began thirteen years ago. In that time two hundred and ninety eight students have graduated in addition to another seventy that have taken part of the course but that are not awarded a graduation certificate. The course is divided into six separate blocks some of which are offered as a stand-alone course.
The quality of the TSA course is recognised by both RICS and Chartered ICES who both allocate points towards membership of their institutions to all graduates.
At each ceremony there is an award made for both the best student and the best assignment. The best student prize this year went to Daniel Whitby of Maltby Surveys who received a cheque and the Leica Shield from Leica's Tim Badley, and a further cheque and the TSA plaque from TSA President, Graham Mills. Bill Pryke presented the best assignment award and cheque to Matthew Ullett of Siteline Ltd.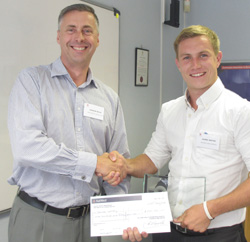 (TSA President Graham Mills (left) presents Daniel Whitby with his Best Student Award)
The students and guests assembled for lunch before the prize giving ceremony in a very relaxed and informal atmosphere which all in attendance seemed to enjoy immensely. Next year the number of students graduating will be in the same region as this year which is a sign of the continuing success of the course.
At the end of the ceremony, Rory Stanbridge made a presentation to Georgia Rowley who was leaving the School after a period of ten years to move on to pastures new. TSA's best wishes and thanks go to her for a happy and successful future.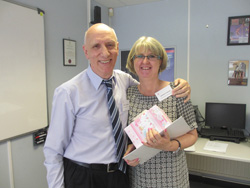 Once again and finally, the dedication and commitment of Andrew Crumpler deserve a very big thank you from both TSA and all the students.