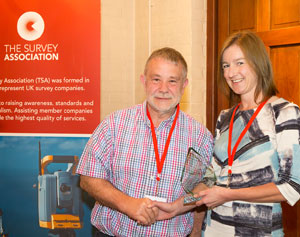 TSA's 37th Annual General Meeting was held at the National Brewery Centre in Burton-on-Trent on Wednesday 29th March.  A record attendance for a TSA AGM filled the Worthington Suite. This provided a suitably celebratory environment for a day entitled, 'Surveyors of the Future'.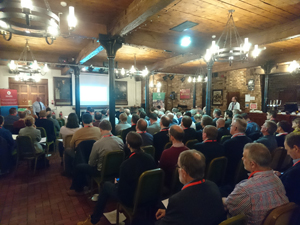 The AGM was swiftly convened by TSA President Adam Bradley, now officially elected having temporarily occupied the role following Mark Combes standing down in October 2016.  Adam, and all present, expressed thanks and gratitude to Mark for all his efforts on behalf of TSA particularly in relation to the Geospatial Apprenticeships.
The newly elected Council was announced: Adam Bradley, Nick Hampson, Graham Mills, Stuart Dimond, Olly Viney, Adrian Halliwell, Tony Rogers, Peter Marsh, David Watterston, Sam Roberts and Mike Hopkins.  Adam asked for any willing volunteers to fill the final place on Council and Nathan Spencer of CSL Surveys was duly co-opted.
Adam Bradley was delighted to announce that the President's Award for 2017 was to be presented to Richard Maltby, for his outstanding commitment to improving training standards within the survey profession.   Once again, Lockton generously sponsored the glass trophy and a cheque of £100 to Richard's nominated charity.
The rest of the session then kicked off with Gordon Jenkins, Director of Operations at CSCS, giving an update on the very latest on the changes to the scheme which will affect TSA Members.  Gordon responded to the questions put to him in a poll of TSA Members, carried out last month.
TSA Vice-President, Nick Hampson, then provided the latest news on the new TSA Level 3 Diploma in Engineering Surveying.  This qualification has been approved by ProQual and The Survey School is now an Approved ProQual Centre.  TSA already has over 100 expressions of interest for the first 12 months.
TSA has been a driving force for the Geospatial Apprenticeships (Level 3 and Level 6) and Christina Hirst, Project Manager, along with Mark Lawton, gave the latest update on the progress achieved so far.
Andrew Crumpler then gave an overview of The Survey School, the courses on offer and the variety of students attending.
Lunch was then served in the Restaurant with a chance to look around the National Brewery Centre Museum and sample the delights on offer!  Members also made the most of the opportunity to network.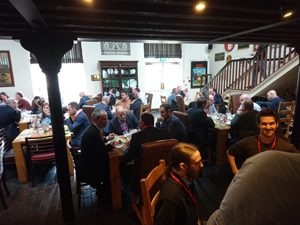 Alison Watson of Class of Your Own is well known among the survey profession for her passionate commitment to the next generation of Surveyors.  Alison brought everyone up to date with her work with Design, Engineer, Construct! with many inspirational stories of how school children are embracing surveying. So much more needs to be done with greater engagement and support needed from survey companies.
Dr Henny Mills of Newcastle University gave an enlightening and humorous update on teaching surveying at University, with plenty of stories to entertain and inform.
An Equipment Manufacturers Q&A was then convened, with John Fraser (Leica Geosystems), Ian Pennington (Trimble) and Ian Stilgoe (Topcon) taking their places at the top table to field any questions from members.  A variety of topics were covered and members appreciated having such a forum.
The feedback has been very positive, with members feeling better informed about a variety of important initiatives.  There is so much going on – if you don't think we are doing something, then why not volunteer yourself?  We can always use more input – TSA is driven solely by the members, it is YOUR association.