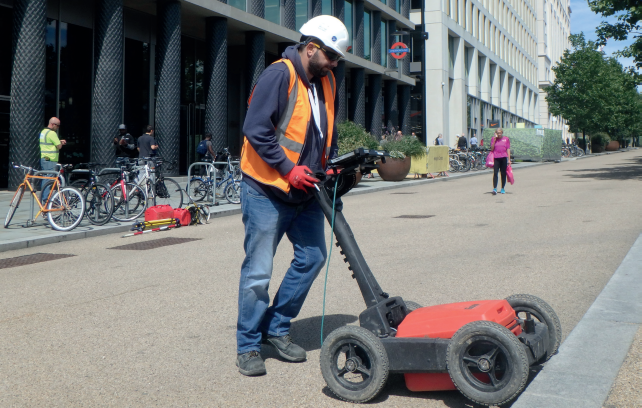 One of the joys – or for some frustrations – of surveying, is the fact that you can encounter and uncover anything in the process of carrying out a preliminary, pre-design survey. A primary reason advanced surveying of a site is so important is that there are often surprises concealed in the area. This can either be at ground level, if the plot is overgrown and has existing structures in place, or more often below it.
There are many elements that can be found underground, ranging from utilities such as water pipes, drainage and electric cable, to other subterranean services and obstructions that will not be readily apparent to the naked eye at ground level. Old plans and drawings are often useful resources for the location of such items, but anything can lie buried on a site – whether it be rural farmland, where once could have stood sheds, storage facilities, or archaeological remains that have been buried for thousands of years; or a redevelopment of an urban brownfield site that has been used for industrial purposes.  Even urban sites can hide buried archaeological remains, sometimes in great quantities. This is especially true for cities with a long history of occupation, for example York, Chester or London.
Historical significance
If you are working on a site known for its historical significance, there may be a precedent in the area for how to proceed. A good example would be several of the development sites in the historic City of Chester. Over the years, the city has undergone change and development, with new ring-roads, street layouts and a great deal of demolition and redevelopment. If during the groundworks phase of a development, remains from the Roman era were uncovered, work has been halted and archaeologists and other historical specialists have been allowed access to the area. They have then been able to proceed to excavate any objects of interest and remove them, to be examined and catalogued at a later date.
The problem with relying on this approach is that unexpected delays to a development project can be both time-consuming and costly. This is where a well-planned pre-design survey can be integral to the success of your project. If a survey is carried out using the appropriate methods, an early indication can be given of what kinds of buried hazards your project might have to deal with.
Understanding what lies beneath
Topographical and underground surveys can complement each other and help build a comprehensive picture of what lies in store for designers and developers, when it comes to what is feasible to build on a plot. Surveyors are the early messengers in this respect, and it is their information that will go a great deal towards shaping the eventual design of the project, be it commercial or residential. The parameters of the site are defined by its boundaries, but also but what is already on the site itself. Underground surveys don't just identify obstructions, they also reveal ground conditions and if ground has been disturbed – for instance, if it has existing foundations on site from a structure that has stood there in the past.
There can also be health and safety factors at play too, as underground chambers or voids can cause danger to those working on the site. Elements like foundations, storage and septic tanks, or basements and cellars may also still be in-situ and need to be taken into account in the design and construction process. It's just such obstructions that you don't want to discover once the project is underway and it's worth undertaking thorough surveys of all aspects beforehand. A qualified surveyor will be able to provide clients with an appropriate methodology to obtain as much information as possible about the sub-surface, to mitigate any costly and time-consuming surprises that may be lying in wait for unwary, ill-prepared projects.
Surveyors can advise on the best survey specification to use depending on your requirements. For example, you can use PAS128:2022 for surveys concentrating on underground utility detection, BS5930 Code of Practice for ground investigations using geophysics, or the Chartered Institute for Archaeologists standard guidance for archaeological geophysical surveys. They will also be able to present and report their findings in a way that suits your project.
If you are looking for a good surveyor, take a look at our list of TSA members, to see if there is a company local to your project, or who work nationally with the expertise you need.