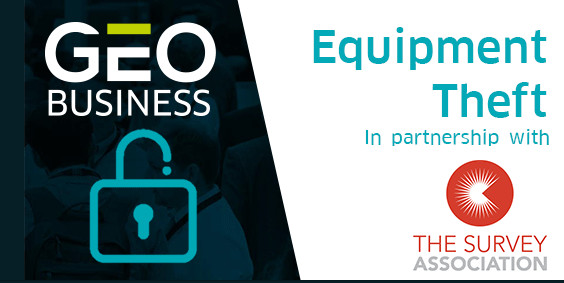 TSA to host a progress report on equipment theft at GEOBusiness
New developments to deter criminals outlined at seminar
TSA will host a morning seminar, dedicated to the problem of equipment theft, on Wednesday 22 May, the second day of the GEOBusiness show.
The session, from 10.15-11.15 is chaired by TSA Council member Oliver Viney and features updates on the last 12 months from a panel comprising the police, security professionals, insurers and leading equipment manufacturers.
In recent years high value survey equipment has been consistently and ruthlessly targeted by criminals across the country.
Crime fighting experts will explain the progress that has been made to halt criminal activity and identify the routes used to dispose of stolen survey equipment.
TSA Secretary General, Rachel Tyrrell, said, "Equipment theft continues to be a problem for our Members, and I expect the debate to be robust. The seminar will explain the benefits of some of the new developments designed to deter thieves and outline the challenges that remain."
Following the presentations, delegates will have the opportunity to share their point of view with the speakers: Chief Superintendent Tom Harding, West Mercia Police; Rachael Oakley, SmartWater; John Fraser, Leica Geosystems; Ian Pennington, Trimble; Simon Crowhen, TopCon Positioning; Dave Luscombe, Datatag ID and Andy Barton, Jelf Insurance Brokers.
New security initiatives introduced by manufacturers include systems that can track in real time and remotely disable stolen equipment. The presentations will cover the use of technologies such as GPS, GM, ultra-destruct warning labels and UV etching.
Further details on TSA's Seminar on Equipment Theft are available here
TSA's stand at GEOBusiness is C2, at the entrance to the show at London's Business Design Centre. TSA's promotional giveaways over the two days are themed to be environmentally friendly.
If you still need to register to attend the most important event in the geospatial calendar, you can do so here
GEOBusiness and the full programme of seminars and workshops on 21 and 22 May are free to attend.