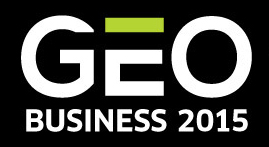 The second GEO Business Show took place at The Design Centre, Islington, on the 27th and 28th May. The show was run by Diversified Communications Ltd and is a result of the cooperation between TSA, RICS, Chartered ICES and AGI through the auspices of the SLG. This year the group was joined by ICE.
The industry has been crying out for a quality exhibition and conference for many years along the lines of InterGeo and this show would appear to have filled that gap.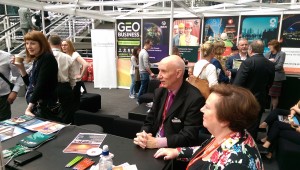 This is the second year for the show and this time around had over 160 exhibitors in addition to an education zone. Attendance to this year's Geo Business was up 25 % on last year's numbers with over 2000 attendees representing 47 countries in two days. For those who work in the Geospatial industry it was a comprehensive insight into what is an exciting and progressive industry that is positioning itself at the very forefront of new technology and practice.
The conference which ran alongside the 143 workshops had 24 guest speakers who covered a wide range of topics from the latest tech to aquatics, data infrastructure to bridges, boats and lasers. The speakers were leaders in their field, theorists and practitioners and each spoke positively about the industry but encouraged debate and often forced the attendees to consider how we can improve our role as an essential aspect to the built environment programme.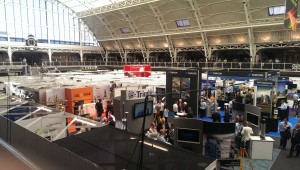 Out on the exhibition floor a range of suppliers, instrument and equipment manufacturers, associations, surveyors and software developers engaged the constant stream of visitors; their stands designed for maximum impact. What was noticeable this year was the amount of industry entrants attending to learn more about what the industry – and the companies who practice within it – can offer. Similarly there was a greater audience of industry clients and partners. This year's atmosphere was one of exploration, as we were far more on show, not just to each other but to the next generation and the people who want to work with us as partners.
The Gala dinner was once again a spectacular event with excellent food, lively company and some wonderful entertainment.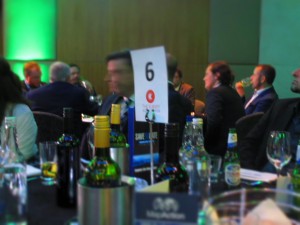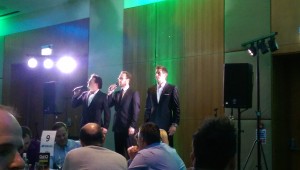 Plans for the show next year, 24th & 25th May 2016, are already in place and will not clash with half term holidays; a real boon for parents of school children.
The show and conference are a superb example of what can be achieved when the industry comes together and puts aside personal interest.
Graham Mills & Rory Stanbridge