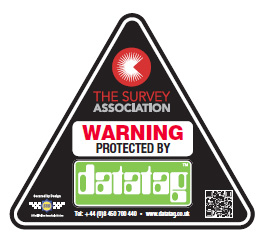 Action by The Survey Association (TSA) to protect businesses from the disruption caused by opportunistic, violent theft of specialist equipment has prompted the introduction of a bespoke, security system for the industry.
Datatag ID Limited, an experienced provider of effective equipment security schemes for other industries, now supplies anti-theft kits, supported by online registration, specifically for total stations used by surveyors in building and construction.
The move comes after TSA, the trade body for the UK's commercial survey companies, consulted with a number of organisations to better understand how a proactive approach to crime prevention is outwitting the criminals and aiding the recovery of stolen assets.
The police-approved Datatag security identification system uses overt warnings and a number of sophisticated covert markings to make items a less attractive target for thieves. Attempts to tamper or remove the labelling leaves tell-tale signs of criminal activity and will fail to eradicate a chemical DNA 'fingerprint' unique to each piece of labelled equipment.
TSA's talks with the specialist police team at the Plant and Agricultural Intelligence Unit (PANIU), insurance companies, leading survey equipment suppliers and feedback from its own membership, indicate the majority of thefts involve total stations.
In the last 18 months, 30 total stations have been stolen from London's Crossrail project alone, with one recovered in Russia. A stolen instrument was also traced to Iraq. Organised gangs that operate on an audacious 'theft by appointment' basis have been known to return to a site hours after the first theft to snatch the replacement equipment.
Graham Mills, President of TSA said, "Some of our members have been threatened with knives and have even had equipment wrestled from them in broad daylight. Personal safety must be the main consideration in these situations but we know that the knock-on impact of our members becoming victims of crime can be great. Downtime and delay leads to losses in revenue for businesses and some insurance providers may set restrictions or even decline cover if site risks are seen as too great."
Datatag supplies the technology and administers the CESAR scheme, protecting 135,000 pieces of agricultural and construction equipment. Figures from PANIU indicate that CESAR marked items are six times less likely to be stolen and four times more likely to be recovered.
TSA member Neil Harvey, Director at Leeds-based Met Geo Environmental, has had total stations stolen from sites in West Yorkshire and London. He now uses Datatag kits to protect new purchases.
Neil Harvey says: "Theft is a hassle and it holds up projects so I want to make sure I am doing everything I can to protect new equipment. The accurate identification of stolen equipment aids recovery and improves the chances of prosecution. Taking effective crime prevention measures also influences insurance premiums. This scheme helps to address a problem that has troubled the survey industry for some time."
Datatag's security systems for survey equipment are approved by TSA and are available to members at a discounted rate. For full details www.datatag.co.uk
TSA members also benefit from the SurveySure equipment insurance scheme run by Jelf Lampier. For further information on The Survey Association www.tsa-uk.org.uk
Fact File   Source: Plant and Agricultural National Intelligence Unit (PANIU)
Construction sites in London and South Yorkshire are the UK's theft hotspots
Research by insurers indicate plant equipment to the value of £750m is stolen each year
Of the 1,100 CESAR marked items stolen, 302 have been recovered. This is a 27.45% recovery rate. The overall recovery rate for all equipment is 8.7%
Through the police/CESAR partnership, information on stolen equipment is circulated to the Serious Organised Crime Agency and Interpol, with a reach to 188 countries
Equipment theft is down 33.2% from the peak of October 2010- September 2011 which saw 5480 thefts, to 3650 for the year October 2012- September 2013
Ends
For further information, interviews or images contact Ruth Badley PR on 01423 884063 or 07929 420 360 or email ruth.badley@btconnect.com