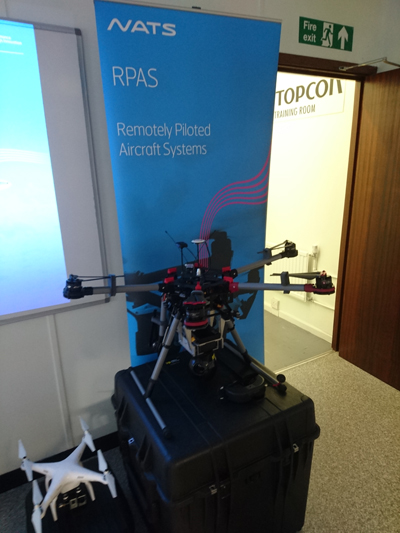 TSA recently ran a "Drone Awareness" seminar at The Survey School in conjunction with NATS (National Air Traffic Services.)
The seminar, delivered by Will Brown from Prestwick Centre, was jam packed with over 30 delegates in attendance. This emerging technology which opens up many avenues of opportunity, also sets many new questions and challenges with, in particular, the ever changing legislation. This is also likely to increase in 2017 according to Will, so who better to speak to our members than NATS? The satisfaction ratings for the presentation reaching an almost unprecedented 94%.
Background, legislation, operational considerations and H&S issue were all covered in a free flowing five hours interspersed with a networking lunch. All of this being FREE to TSA members.
The feedback has been excellent with all respondents expressing that the day was worthwhile. Other comments received were:
"Presentation was really well put across and very helpful for me and as a company moving forward."
"Learned so much that we wouldn't have even thought about while flying our RPAS in and around open/busy areas,"
"The best UAV / Drone / RPAS event I have been to. No sales and lots of practical information."
"Excellent choice of subject and pitched just right for me. I've been looking for this type of awareness day for some time and this was by far and away the best."
All in all a very successful, informative and well received day. Discussions are now taking place to organise and run a series of training days specifically for TSA members. Watch out for dates.