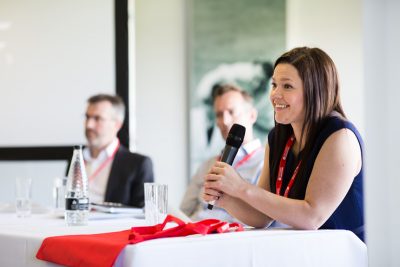 ''We hope that by working in partnership with TSA we will help deter theft of survey equipment. Promoting the importance of crime reporting allows us to geographically risk- assess areas of high crime, liaise with the police, where appropriate, and make informed recommendations to Members.'' Rachael Oakley, Senior Analyst, SmartWater Technology.
Security products and crime reduction specialist, SmartWater Technology joined as a Supplier Member, following a TSA-led initiative to tackle the growing problem of equipment theft in the survey industry.
A three-year agreement between TSA and SmartWater, sponsored by the leading manufacturers, has brought the impact of crime on survey companies to the attention of the police at the highest levels and the Home Office.
Every incident submitted to SmartWater's dedicated Intelligence Portal receives detailed analysis and TSA is now calling on the wider survey industry to also report equipment theft.
TSA Manager, Rachel Tyrrell, said, ''TSA has worked hard to bring everyone together to tackle a national problem and we now need the whole survey profession to get involved.''
''We are asking TSA Members, non-TSA Members and their contacts to report every incident of equipment theft in as much detail as possible.
Initially, they can contact office@tsa-uk.org.uk  for information on how to do this but we are adding a new page to TSA's website, allowing information to be submitted direct to SmartWater analysts.''
The industry's first co-ordinated response to equipment theft was highlighted at TSA's workshop event at GEOBusiness, attended by Supt. Tom Harding and Senior Intelligence Officer with SmartWater, Rachael Oakley.
Supplier Membership has already played a part in the recovery of an instrument hired from Speedy Asset Services.
Lisa Blake, Specialist Services Director at Speedy explained, "We've gained so much knowledge and support from TSA's team and this has helped us decide where we put our investment, recruit specialists and share experiences with other members of the Survey community about how to protect our assets from theft. This support was invaluable when a client reported the theft of a robotic total station on hire from our Liverpool depot.''
''The instrument was fitted with a tracking device and so we could give Merseyside Police live data and screenshots on its exact location, which culminated in recovery of the kit later that day.''
Speedy is the UK's leading tools and equipment hire company, operating in the construction, infrastructure, industrial, utilities, events and facilities management markets. Speedy has more than 200 locations nationwide, as well as operations in the Middle East and Kazakhstan.
Affiliate Member, Gladman Developments Ltd, is a privately owned, innovative business operating in a range of property sectors. With over 25 years' experience in obtaining planning permissions, they are the UK's most successful land promoter.
James Willis, Senior Surveyor for Gladman said, ''As we are a department within a larger organisation, joining TSA is a really good way to ensure we aren't too detached from the survey industry. Membership means we keep up to date with industry developments and of course it shows our work is being produced to a recognised standard. We already have two apprentices on the TSA course at The Survey School where they will get an excellent grounding in the industry.''
TSA now has over 180 companies in membership as full, associate, supplier, affiliate or academic members, all directly involved in the survey business and listed on the website.
https://www.tsa-uk.org.uk/need-a-surveyor/list-of-members/
TSA runs a portfolio of free business and technical seminars for Members throughout the year, as well as themed Conference events featuring expert speakers from the survey profession.
The next TSA Conference takes place at Holdenby House, Northamptonshire, on 7 November 2018, when the theme will be Surveying Iconic Structures. Members will be invited to register closer to the date. See www.tsa-uk.org.uk/events/  for details of all forthcoming TSA events.
You can keep up to date with all TSA news by following us on Twitter @surveyassoc
Would you like your company to be featured on the TSA blog?   You can get involved with our campaign to highlight our Member companies and what they do – whether you've been in Membership for years or have just joined.
Why not get in touch and tell us why you value your membership of TSA and how membership is helping your business. We'd love to hear from you! office@tsa-uk.org.uk